dalci
dalci makes a range of snack-size nutritious, gluten-free desserts.
www.dalci.com
Average rating from 7 users
100%Recommend to a friend
These are pretty good for being vegan + gluten-free. They come in a sealed packaging that makes the products stay soft and moist. The flavors are bold and definitely match the description but the texture provides a bit of a weird aftertaste. I got the variety pack and I think the chocolate treats were the best. The lemon one was pretty good too. For all of them, I found myself eating half and then losing interest/not really enjoying the taste anymore.
Feedback
I think the texture needs to be adjusted. It is almost too soft/wet of a feeling whereas a normal brownie has a dry/crunchy edge and top to it. The moist texture is what is causing a strange aftertaste I think.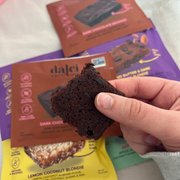 ---
Dalci brownies are so moist and delicious! Our favorite are the lemon coconut and almond butter dark chocolate ones!
Feedback
It's hard to say because they ship so quick and are packaged so nicely! I am a repeat customer and only one time was the outside box slightly damaged but the brownies are individually package as well so they were totally fine! We love Dalci:)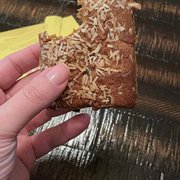 ---
---
Simply Delicious. Perfect for that late night craving, makes for a perfect guiltless brownie sundae!
---
What is Thingtesting?
Thingtesting is an unbiased place to research and review internet-born brands — because honest reviews help us all shop better. Learn more.
---
This is the only food I have a subscription for. Indulgent taste and texture, with high integrity ingredients and nutrition. It's a sweet treat I never second guess. Being a refrigerated product I feel helps maintain a soft, moist texture that I really enjoy. I love to break mine into pieces and add to yogurt.
---
Eat it warmed up or right out of the package, it is the perfect treat for any craving!
---
My go-to snack when I want a dessert and don't want to feel guilty!! My favorites are Lemon Coconut and Almond Butter (especially warmed up in the microwave for a few seconds).
---
YUM- I was so in love with how each of these delicious treats taste that I shipped a variety pack for every member of my family! Besides being delicious, I'm authentically surprised at how minimal the ingredient list is and that I know (and can pronounce) each one.
Feedback
I ordered online, so would love to be able to find these at a store near me.
---