COSRX
COSRX creates prescription grade skincare products.
www.cosrx.com
Average rating from 79 users
97%Recommend to a friend
COSRX Reviews
All

79
Advanced Snail 96 Mucin Power Essence

14
all in one cream

6
Acne Pimple Master Patch

6
snail mucin

6
Full Fit Propolis Synergy Toner

3
propolis serum

1
essence

1
Bha

1
Pimple Patches

1
cleanser

1
Review highlights
Hydrating
Nourishing
Effective
High-maintenance
Stripping
Slimy
I think most people start with the snail serum as an easy intro to Asian beauty products. I think it's a fantastic product for most skin types and leaves you feeling moisturized and fresh
Advanced Snail 96 Mucin Power Essence
---
A truly impressive brand. Their ampoules (supercharged serums) are so effective on breakouts and I love their pimple patches - just my favorite of all the ones I've tried. Their moisture cream and snail mucin did not agree with my skin, but I am nevertheless impressed by their products.
---
---
I tried the viral snail mucin and It was great at first but broke out my skin short after, I do have sensitive skin! it may work for you but this is just how it worked for me. definitely an inexpensive brand for how high quality it is.
snail mucin
Advanced Snail 96 Mucin Power Essence
---
What is Thingtesting?
Thingtesting is an unbiased place to research and review internet-born brands — because honest reviews help us all shop better. Learn more.
---
solid brand, so many great products
---
It's decently moisturizing and the texture wasn't as gross as it looks.
Advanced Snail 96 Mucin Power Essence
---
I've used their water-based facial cleanser and their pimple patches. Their cleanser was fine; nothing new with no outstanding results. I did, however, like their pimple patches a lot! I feel like most pimple patches don't work on my hormonal acne but this truly pulled all the gunk out of my pimple and left me with no hyperpigmentation scars!
Acne Pimple Master Patch
cleanser
---
I love cosrx stuff - theyre like better formulated versions of the Ordinary .
Advanced Snail 96 Mucin Power Essence
Full Fit Propolis Synergy Toner
Acne Pimple Master Patch
---
I use both their propolis synergy toner and snail mucin in my skin care routine. The toner really cleans up my face and the snail mucin leaves my face both hydrating and glowy which I LOVE. This might just be my favorite skin care brand as I've had no problems in the months I've been using them.
Advanced Snail 96 Mucin Power Essence
Full Fit Propolis Synergy Toner
---
When I first heard about COSRX, I was intrigued but thought it was just the latest fad or trend that wasn't going to last. Finally I gave in and purchased the all in one cream. After getting over the fact it was very slimey and goopy, I gave the product a real go. Now I love it, I've just purchased the retinol 0.5 oil, which I will be testing soon. The gel is very good for my skin , it makes it tacky for a while but it does take it in and absorb it. My skin is hydrated and very nourished with this a part of my routine. This is a Korean brand I believe, in which again, I have not really had much experience with. If you haven't tried COSRX yet, I would recommend starting with the all in one cream like I have done. You can use it when you want , morning or night up to you. I'm hoping I will be impressed with my latest purchase with COSRX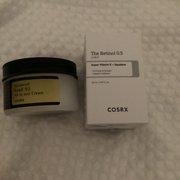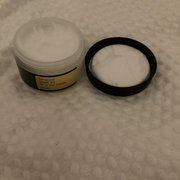 ---
I swear by these pimple patches. I order 5 packs at a time and make sure to always have a sheet on hand and in my travel kit. As far as things I purchase regularly, this might be at the very top of my list.
---