Carne Bollente
Carne Bollente designs fashion apparel that showcases sex positivity.
carnebollente.com
Average rating from 1 user
Influencer for Carne Bollente
So, I bought this sheepskin like jacket. Inside its all silk like, so that feels really good and luxurious. Outside is a kind of sheepskin with some sprayed flowers on it, a bit rough nasty graffiti for a rough worn out look. I really like the jacket, it's warm and comfortable, I would recommend this jacket to anyone who likes cozy stuff. It's a steep price, but the design is unique. I always say about this brand, it's not cheap but it's also not haute couture. It's in between. And that makes it perfect.
Feedback
Carne bollente chooses to pick sexuality as a theme. I think that's a bold choice. Not everybody is willing to wear these kind of themes. But I do, I still, think the price is steep. But the overall quality is great.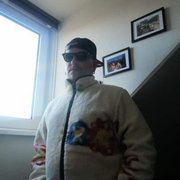 ---