Average rating from 2 users
I'd been eyeing Carb since I saw them in the newsletter when they first launched. I finally pulled the trigger this Christmas and received the mohair cardigan and Larchmont oversized overshirt. I am obsessed! The quality is incredible, and I have received more compliments on the cardigan than I could have imagined. The cuts are timeless yet elevated, and the attention to detail regarding collar sizes, fabrics, and oversized fit, is spot-on. I recently bought the wide-legged trousers for an upcoming trip and bought a few sizes too large. I was bummed because I knew I had to return them, but I was desperate to see what I could do about securing another pair before I left. I realized that the fulfillment center was near where I live and ended up messaging Carb on IG asking if there was any chance that I could go to the fulfillment center in person and make the exchange. Gary, the founder, was quick to message me back and said he'd be there the next day and would be happy to meet me in person to give me the new pair, A++, for customer service!
Feedback
I can't wait to see what you release in the future!
---
I just got my first piece from Carb and I don't think I've ever been complimented so much on my clothing. The shirt I got has the perfect oversized cut that's was really easy to style and not intimidating at all. I feel like Carb is making modern men's fashion way more accessible without sacrificing quality. I will definitely be buying from Carb again.
Feedback
They're a new business so they only have a few pieces right now. Excited to see them grow their offering with different colors and styles.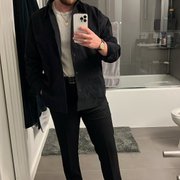 ---