Average rating from 20 users
For a low-sugar vegan candy, Blobs are delicious! They are more like a fruit snack than a traditional candy and I loved them. It was so hard not to just eat them all at once. I received three flavors to try and they were all good. If I had to rate them, I would say 1.) orange-peach, 2.) pineapple-passionfruit, 3.) pomegranate-apple, but I would get all of them again. They aren't cheap ($40 for a 12-pack) but I think they are worth it. I'm looking forward to ordering more soon. I would love to see them make some sweet and sour ones in the future.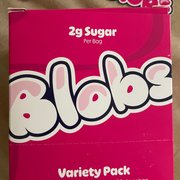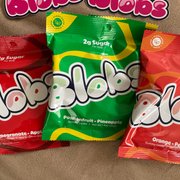 ---
Received a free product from Blobs
Compared to similar brands on the market (smart sweets..... yuck) these are definitely better, but I couldn't finish a whole bag. I think smaller packs for on the go would be a good idea! Or even a variety bag with all the flavors inside.
---
---
As a responsible adult with a candy weakness, I am (or should be) interested in low-sugar, vegan alternatives to my beloved Haribo and random Trader Joe's gummies. Enter Blobs--interesting flavors, perfect size packages, and no guilt. Win-win-win! I took Blobs with me to see Stop Making Sense in iMax and they were a perfect companion. My only complaint is that the texture is more of a *fruit snack* than a *gummy* (the texture reminds me of a gusher without any gush), but that is a personal preference. The next time I am in a Hudson News in an airport, I hope Blobs is too, because I would pick up some packs!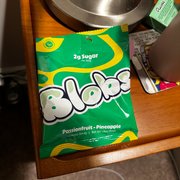 ---
What is Thingtesting?
Thingtesting is an unbiased place to research and review internet-born brands — because honest reviews help us all shop better. Learn more.
---
Tasty! Love the flavors, the packaging, and the calorie count! Plus, the texture is great, too. Would definitely buy again. Loved having them in my snack drawer!
---
These are definitely better consistency wise than some of the competitors. The flavor is good and they are a little tart which i love. the only thing i dont love is there is a weird aftertaste. Good alternative to gummy candies but are more of a fruit snack consistency.
---
Overall a delicious snack and good replacement for if you like to eat a lot of sugar-y gummy treats but don't want the high sugar. I enjoyed the flavors, and thought the gummies were very cute. I did feel they were more like a fruit snack than a candy, and I noticed that my stomach usually hurt after I ate a whole bag. So while I like the flavors, I probably wouldn't repurchase regurarly. My roommate absolutely loved them, so this is a great treat if you don't have an issue with the tapioca upsetting your stomach.
---
I love the texture and flavor! A guilt free snack.
---
Blob-a-licious! My family loved these sweet treats. The Blobs are flavorful. The texture isn't bad either. I would recommend these parents who want to get their children away from all the bad dyes that America allows companies to put into the consumer's food supply. With snacks like this, one step at a time, we can break our children free from the poisons that "look" so yummy to them!
---
this by far surpasses any other vegan, low-sugar gummy out there but i have to agree with the other reviewers that they more resemble a fruit snack than a haribo competitor. i love that there is no artificial sugar and the flavors are true to taste. but for me, who isn't vegan, it didn't satiate the chew that animal-based gummies have which is like 90% why i love gummy candy.
---
Ok as someone with a HUGE sweet tooth that I've been actively trying to curb, I feel like I've found my answer...? I've tried all of the "guilt-free" candy brands, but none have satisfied like Blobs. Blobs are like the perfect mix between Annie's Organic Bunny Fruit Snacks and Haribo Gummy Bears. Both in texture and flavor. They are a great gummy consistency without being too soft (like the fruit snacks) or too hard/chewy (like the gummy bears). I've enjoyed all (3) flavors, too, and appreciate that each is a blend of two different flavors. I'm not typically a pineapple fan, but the Passionfruit-Pineapple was the perfect combo. Pomegranate-Apple is my fave, but they are all super enjoyable. And with only 2g of sugar per bag, it's a super satisfying sweet snack without the guilt. I'll definitely be ordering many more of these and have already been telling other friends with sweet-tooths to get on board.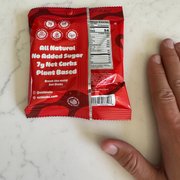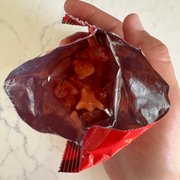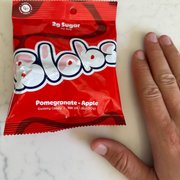 ---