Big Little Bar has permanently closed down.
Big Little Bar
3.83 • 30 Reviews
Big Little Bar makes a daily wellness bar packed with essential vitamins and Omega 3s.
https://biglittlebar.com/
Average rating from 30 users
74%Recommend to a friend
Taste was awful. I love the idea, and Im sad that they went out of business, because I can see where these would be great for travel or backpacking when I don't want to be carrying supplements, or when Im not able to eat the healthiest.
---
Company went out of business. That's really sad, as I liked these bars. I hope someone else picks up where they left off.
---
---
The bars were great for getting your vitamins and minerals, but the taste wasn't great. I would rather take a pill.
---
What is Thingtesting?
Thingtesting is an unbiased place to research and review internet-born brands — because honest reviews help us all shop better. Learn more.
---
Tasty and easy snack for work!
---
The idea of just eating one small bar a day to support your brain, heart, skin, hair, and nails is really appealing to me as someone that almost never takes vitamins (I am very forgetful and at this point in my life it is not totally necessary) and doesn't always make the healthiest eating decisions. Reading the ingredient list, it is honestly crazy how much is in each little bar! It's almost shocking this is edible at all. I decided I would write my review only after I ate all 20 bars sent to me in the package. At first, I was eating them almost every day, but then I did some holiday traveling so the streak was broken. However I did not want to come to any conclusions until all the bars I had were consumed. For a while it was my routine to grab a bar out of the fridge and eat it as part of my breakfast. Do I feel any healthier or have any of the body parts mentioned really benefitted? I cannot say for certain, as my hair is still thin and a pain to deal with as usual, and nothing else really feels improved. But I don't feel any worse, so maybe the benefits are more subtle than I was expecting. Now onto the bar itself. It did take a little while to get used to the flavor, but it is tolerable. I can't say I ever crave this bar, but for something that is supposedly very beneficial, I was able to eat it on 20 different days without having to throw it out like I do with most protein bars. That being said, I do have more of an issue with the texture. For the most part it is very soft and pretty chewy, but in almost every bite there is a very small crunch that must be from a seed or something. And I do not like how that feels at all. My teeth are quite sensitive so it's a bit unappealing to often have a random hard/crunchy spot while eating a bar. One thing that I feel is a bit misleading is that in a lot of the bars seen on the website there are a lot of chocolate chips. The bars seem almost swimming in them. But in the actual bars that does not seem to be the case at all. I barely ever taste the chocolate, which is disappointing since that is the part I most look forward to. If I had to describe it, I would say the bar is pretty fruity with maybe a hint of cocoa. I definitely recommend taking the bar out of the freezer and letting it warm up a bit before eating. Eating it straight out of the fridge is a struggle. Overall, these may be a good option if you are looking for a snack that is extremely healthy for you and you already have no issue with eating protein bars. But this is likely not something I will continue to purchase, as I do not love the taste and that is such a big factor in my current purchasing decisions.
Feedback
Add more chocolate chips, and perhaps experiment with other kinds of chocolate.
---
So so sad they've closed their doors... too soon. They were delicious and nutritious.
---
The Big little bars are a great tasty way to get your daily vitamins. They are almost like a dessert.
---
The concept is interesting but I'm not sure it's for me. I think if you eat snack bars a lot and have trouble taking vitamins consistently this could be a good option but I haven't been sure exactly how to fit this into my day. I don't always want a snack bar but sometimes feel like I need to eat it if I want to get the benefits. The bar tastes good, slightly unique from other bars, and masks any fish oil taste! I'll continue to finish the box, but not sure I'll repurchase.
---
I really wanted to like this so badly. I'm a flight attendant and to have a highly nutrient dense bar to take with me on my travels would be amazing. I was so excited when it arrived, and the presentation of the bars in the package was appealing, plus it had with no extra plastic packaging beyond what the bar is wrapped in (which I love). I took a bar out, broke off a piece for both me and my partner to try at the same time, took a bite and.....we both absolutely hated it. It's tastes like what I imagine a chocolatey, chewy bar would if someone crushed up multivitamins and mixed it in there. It was truly upsetting. I'm sorry, I know this is really harsh--and maybe it's just me and my partner who feel this way--but my personal search for a good-tasting nutrient-dense and portable snack continues.
---
I purchased a box of Big Little Bar's for my wife to try. They were shipped very quickly and packaged nicely. I really like the company's mission too. Unfortunately the taste leaves a lot to be desired. We both tried a bar and just could not handle the unique flavor. We think it's the lemon flavor that makes the entire bar taste like it's gone bad. Maybe if you really like lemon you might like these, but we did not. I do not recommend in the current chocolate cranberry lemon flavor. If in the future they introduce different flavors I would give them another chance.
Feedback
The taste really needs to be reengineered. The way it is currently configured, chocolate cranberry lemon, is just not palatable.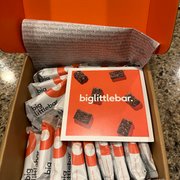 ---