Average rating from 3 users
I absolutely love my AWA machine and bottles! It's been a game changer for me, as I was never good at drinking enough water all day and now I'm addicted to making yummy sparkling water with either fresh fruit, special flavors, or just plain. My latest favorite drink is grapefruit & sparkling water. Not to mention the design of the machine and bottles is impeccable, such a beautiful addition to the kitchen and everyone always compliments it!
Feedback
I would love more choices of bottles, different colors, and maybe some smaller ones to take on the road. Also more flavors!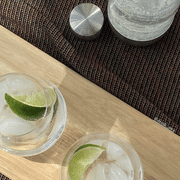 ---
Awa's machines are easy, fun to use, and thoughtfully designed. Great for personal use at home or for parties. Next thing I want to try is either making espresso tonics or sparkling cocktails/wine with it.
Feedback
Im lazy and it takes too many turns of the bottle to screw the bottle into the machine.
---
As someone who drinks way too many sparkling water cans, I decided to get the machine to avoid all that hassle of throwing away an endless supply of cans. It's been very helpful and I highly recommend everyone get an AWA machine for their home.
Feedback
It's been simple and straightforward to use. I'm looking forward to seeing more flavors and beverages that match the traditional sparkling water experience.
---