Average rating from 5 users
100%Recommend to a friend
These jackets are well-made and their quality is far better than I anticipated they would be. Very good quality
---
The jacket is really beautiful, high quality leather and fits perfectly. I can say that is one of my favourite leather jacket.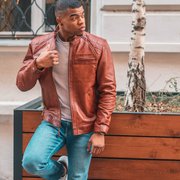 ---
---
This leather jacket brand is one of my favorites. They never fail to impress me with their quality jackets and I totally recommend this to anyone who is looking to buy good products on a good price.
Feedback
This leather jacket brand is one of my favorites. They never fail to impress me with their quality jackets and I totally recommend this to anyone who is looking to buy good products on a good price.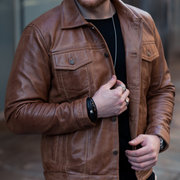 ---
What is Thingtesting?
Thingtesting is an unbiased place to research and review internet-born brands — because honest reviews help us all shop better. Learn more.
---
I purchased the "Johnson Diamond Classic Mens Black Cafe Racer Biker Jacket" back in December 2021. The jacket is absolutely well-made and looks greater as it ages. Quality is amazing, very comfortable to wear with long sleeves underneath or simple white t-shirt on summer/warmer days.
Feedback
Purchased from UK. The site was easy to navigate and overall purchasing process was simple. However, if the product is not in UK stock, you will have a wait longer. Usually okay if you are not in a rush. My only issue was with the courier used (SkyNet), who unfortunately were very poor in communication when delivering the goods. Reported I was not home twice despite waiting at home on two separate days (according to the tracking supplies, the courier said delivery would be made on said days). If you are unsure whether your jacket is available, contact Angel Jackets before placing to avoid disappointment.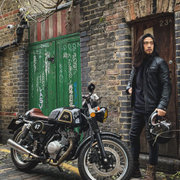 ---
Influencer for Angel Jackets
I love leather outerwear and have owned plenty of leather jackets over the years, so when Angel Jackets reached out to me and offered to send me one of theirs to try for free in exchange for an unbiased review, I jumped at the opportunity. The jacket was shipped via FedEx from Pakistan but quickly arrived at my doorstep in the US just three days after it was shipped. The garment arrived packaged in a non-woven fabric dustcover bag. The jacket I selected (Café Maroon Racer) has a beautiful dark red/maroon tone with a distressed patina and a very soft and supple feel, as its made from lambskin. It has a stand collar with a brass snap-tab and a YKK zipper with a 2.5" leather pull which slides open very smoothly. I really appreciated the attention to detail, even along the inner seams of the jacket, as all the lines and stitching are straight, even and tight, with no loose threads or sloppy handiwork. All four pockets on the front are zippered with pulls, though I didn't love that the pulls kind of awkwardly hang off the zippers; however, you can tuck them under the zipper concealer flaps which I think is worth the extra effort. At the shoulders is a quilted accent that wraps all the way around the upper back, with a tiny bit of extra padding that gives it a bit of dimension, which I think looks really sexy. The lower hem has tension cinch buckles on either side to trim up the waist a couple inches, and the wrist cuffs are also adjustable for a looser or tighter fit with a pair of snap buttons. The XS size fits my body pretty well as it is not too tight in the chest or shoulders and the sleeve length breaks at my wrists; even buckling the snap at the collar isn't very constricting on my neck. I will say that the jacket as a whole is a little bit thinner and lighter weight than some of my other leather jackets, though I think will be really nice for spring and fall. The jacket does a nice job holding some warmth close to my body without making me hot and sweaty, and there's room underneath to layer on a sweater or sweatshirt. I really like the inside cellphone pocket as it's just the right size for my Samsung Galaxy S21 with a slim case. Overall, I'd say this is a very nice quality real leather jacket at a reasonable price. The workmanship is clean, the look of it stylish, and the fit is modern and comfortable.
Feedback
Since this is a factory direct leather good, it had a strong odor when it first arrived which did however dissipate over time; I requested more info from Angel Jackets and they sent over a mini manual explaining how to remedy it (e.g. hang it up in an open area for a couple days to air out). I also would have liked the zipper pulls more if the two sides were stitched together and finished on the sides rather than two separate tails with raw edges.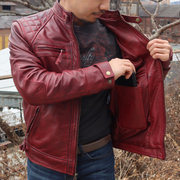 ---