7 Flower
7 Flower sells daily sprays made with functional mushrooms to help improve sleep and support a strong immune system.
www.7flower.co
Average rating from 18 users
100%Recommend to a friend
I've tried both ZEN and GENIUS and they quickly became a staple of my daily self-care routine. I work on a few very different projects, so it can be challenging to stay focused and not bounce all over the place. I take GENIUS a few times a day and it became kind of a ritual. I feel grounded and laser sharp after each use.
Feedback
I've given feedback previously and it seems like the people behind the company are always a step ahead :) So right now, I would not change anything. The product is incredibly functional and tastes great!
---
It was great, i shared with my friends and partner, we all could feel the effect immediately after the first use, even though properly you should feel it in 10 days on continuous usage. The Zen helped a Ukrainian refugee suffering from stress with migrane. The Genius helped my partner who has adhd have only 1 cup of coffee instead of 3-5 and i feel like he can get so much better in work and doesnt have to turn to adhd pills and that awesome remedy. Also helps me with focus on one task for a long period of time without getting distracted, which im very surprised to feel. So we're gonna order 5 more bottles of each to keep and share with friends as many of them are interested. Everyone who tried it said its great and loved the taste as well.
Feedback
Size of packaging, maybe you just should make 1L of each :D That would be great for sharing with family and friends and save some package.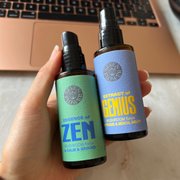 ---
---
As a natural cynic I was dubious about this stuff, but have heard and read a lot about functional mushrooms so decided to give it a go. To be perfectly blunt, I'm blown away by it. Over the last 2 months I've been way out of my comfort zone, dealing with a complicated business procedure and managing a team of professionals that know a lot more about their chosen professions than I do. I've been using Genius regularly as I know how Lionsmane helps with cognitive function - and I need all the help I can get! I've been spraying 7 times soon after I wake, 7 mid-morning and 7 around lunchtime. I've been powering through meetings, keeping myself and others on track and generally been managing an overwhelming workload really well. I'm not going to say it's all down to the Genius as I've been proactive in other ways to help me get through this difficult period, but as a massive procrastinator I know I wouldn't have been able to think so clearly without the help of this genius Lionsmane product. I'm on my second bottle and it's now firmly part of my daily routine.
Feedback
Nothing to add here.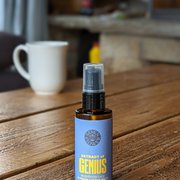 ---
What is Thingtesting?
Thingtesting is an unbiased place to research and review internet-born brands — because honest reviews help us all shop better. Learn more.
---
The Zen and Genius Spray are great!! I was a bit skeptical at first but 7Flowers have definitely conquered a new customer! I am happy to have this alternative way of sharing knowledge and natural medicine. Mush appreciated 🙌
---
Amazing product! My chess rating went up after using the Genius spray and I started to dream more because of the Zen spray! Highly recommend!
---
The extract of ZEN spray is EXCELLENT! It helps me to make my days much more relaxed.
---
good experience , better than the essential oils .
---
I use it every day! I really like this product. I had sleep problems and was often in a depressed state. Then I tried these sprays and my condition returned to normal. I started sleeping normally, and my body finally started to rest and gain strength. My serotonin production has normalized, due to which I now smile more often, concentration and efficiency have increased. I use sprays every day in the morning and evening. Definitely recommend:)
---
Already part of my daily routine! I've been using Zen for some months now and really noticed the calming effects.
Feedback
..Maybe, not having to spray as much as is written on the packaging :)
---
Great products, easy to use. Very handy.
Feedback
Taste is OK, but could be improved to make it really delicious!
---