Sculptural candles and ceramic trinkets: Meet the brands selling elevated objects
Decorative household items — some functional, some not — are being sold as affordable art pieces.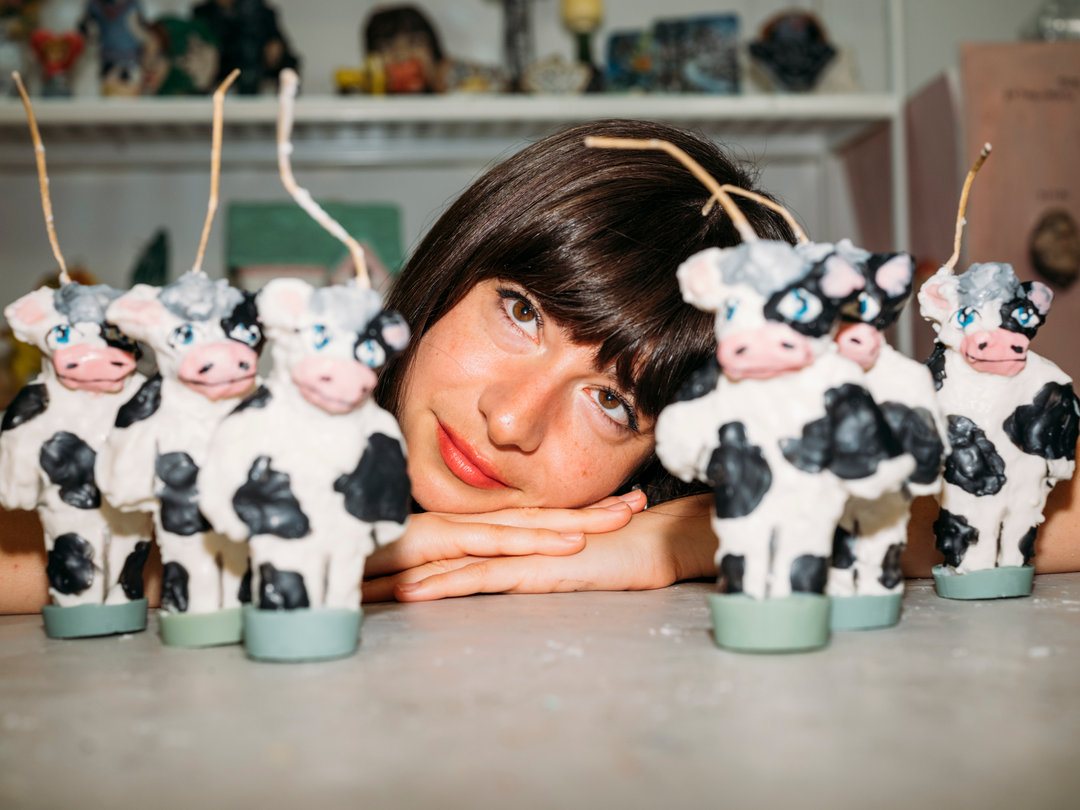 "There are objects," says Janie Korn, a wax artist based in New York. "And there are art objects."
Korn is describing what brands mean when they tell consumers they are in the business of selling 'objects' — a category of items that includes anything from trinkets and home décor items to the sorts of useful things most homes have, like cups, plates and chairs, but which are united by their artistic form.
"You see bowls all the time," Korn continues, as an example. "But when you see one that has more flair, you feel comfortable making an assessment of it. You can comprehend it as a usable object that is ordinary, but you get to elevate it. It's an opportunity for people to engage in art buying in a more accessible way."
While there are plenty of people who would balk at the idea of paying $150 for a four-inch tall candle, Korn has no trouble selling them. She says around 90% of the orders that come through her website are for these custom-made portrait candles, which are hand molded from warm wax and shaped into the customer's face, or their pet's. She says the sales from these products alone are enough to keep her business ticking over, allowing her to take on other creative projects and commissions throughout the year.
Homewares as (relatively) affordable art objects
These days, it's not that uncommon to spot an artistically twisted candle in the corner of someone's Instagram post, or watch them pour their morning coffee into a ceramic mug that looks beautiful, but perhaps isn't the most practical item to be drinking from.
According to data from Etsy, people are on the hunt for more artistic items to adorn their homes with. The indie maker marketplace says that searches for 'funky' mirrors were up 203% in the first three months of this year, while searches for handmade furniture, tufted wall art and fluted glassware were up 2,313%, 172% and 38%, respectively. In September 2021, the Washington Post reported that Etsy searches for 'bubble candles' were up 7,549% for the preceding three months.
Given their giftable nature, November and December tend to be the busiest months for selling homeware-meets-art objects, Korn says. The candles are all made to order — meaning she can't take advantage of the last-minute rush for holiday gifts — with a portrait candle taking at least one hour to make.
Throughout the rest of the year, wholesale orders from retailers looking for unique homeware items, art commissions and collaborations keep these brands busy.
Korn currently has a small collection of candles for sale at Canadian boutique retailer SSENSE, who she designed an exclusive collection for. Earlier this month in the U.K., homewares and fashion store Goodhood announced the latest installment of its partnership with Danish design firm Studio Arhoj, which has been creating unique collections of ceramic 'character' sculptures for the shop.
In October Sticky Glass, a New York-based design brand which sells products made from hand-blown glass, launched a collaboration with CBD brand Flower by Edie Parker. The limited edition collection includes brightly colored pipes and ashtrays that look like art pieces — but are designed for smoking.
Whether people will actually want to get these delicate glass pipes dirty is another question — and one that all buyers of artistic home objects, regardless of their utility, will likely ask themselves before purchase.
Korn says that her customers don't often burn the candles down to nothing, although they may light them for a special occasion. "I have seen people tag me in photos where they are burned down, though," she says. "I'm surprised because of the price point. But what's fun about them is that they're burnable. They're very temporary — if you want them to be."