Acid League: Building the foundations of a food brand on vinegar
Launched in August, Acid League wants to take over the shelf-stable food aisle, using vinegar to elevate flavours.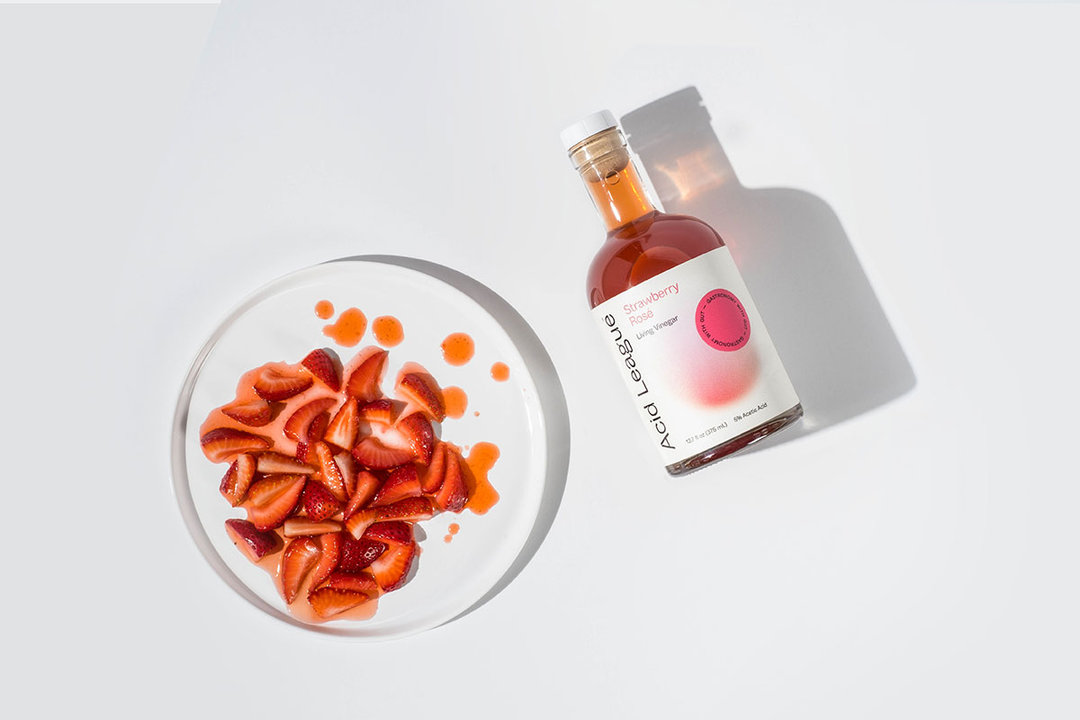 In 2019, food scientists Cole Pearsall, Allan Mai and Scott Friedmann set out on a mission to ferment as many different foods as they possibly could, to see how many of those ingredients could be turned into tasty vinegars. We asked Cole and Allan how this experimental attitude will continue now their new brand, Acid League, has launched.
What's the weirdest thing you've ever fermented?
Cole: Allan and I fermented Baileys one time, which has milk proteins in it, and it coagulated because of the acid. It wasn't a pretty picture, but you have to go through hundreds of experiments to get to one good one. We also did a series that was a play on balsamic, where we blended miso and apricots and tried fermenting it.
Allan: That was pretty adventurous. We did some nut vinegars, and we got a bunch of flowers, juiced and fermented them. Those were lovely. We have this attitude that, when there's only five or so vinegars on [most supermarket shelves], we should just figure out what works and what doesn't. The 500-plus experiments that we did, not all of them were amazing.
What makes vinegar an interesting category to launch in?
C: There's been no resurgence of vinegar since balsamic came over in the 80s – no influence saying this is a cool, contemporary product, and there's no brand loyalty. So many products have some sort of acid base, too. If you look at your hot sauce, I bet it'd [list] the chilli peppers, then say "white distilled vinegar". But what if you add products with innate flavour notes themselves – what happens if you add our mango jalapeno vinegar?
The name Acid League – we chose it strategically. We're not a vinegar company, but we realised that we could establish legitimacy by launching with vinegars. In that same grocery aisle are the hot sauces and condiments, and by extension you could see Acid League living in every product category from a shelf-stable point of view.
A: The reason we started Acid League with vinegars is because of the strategic advantages [that gives] with regards to actually being able to make differentiated products, because we have differentiated vinegars.
In layman's terms, what happens when you add vinegar to a dish?
A: Every single aspect of the dish gets lifted, and it would be very dull if you didn't have that acidity to brighten it up. It's a classic way of balancing a dish, and it can also balance sweetness.
C: It allows you to cut through fatty molecules that might coat your tongue and prevent you from taking in the full flavour of the dish.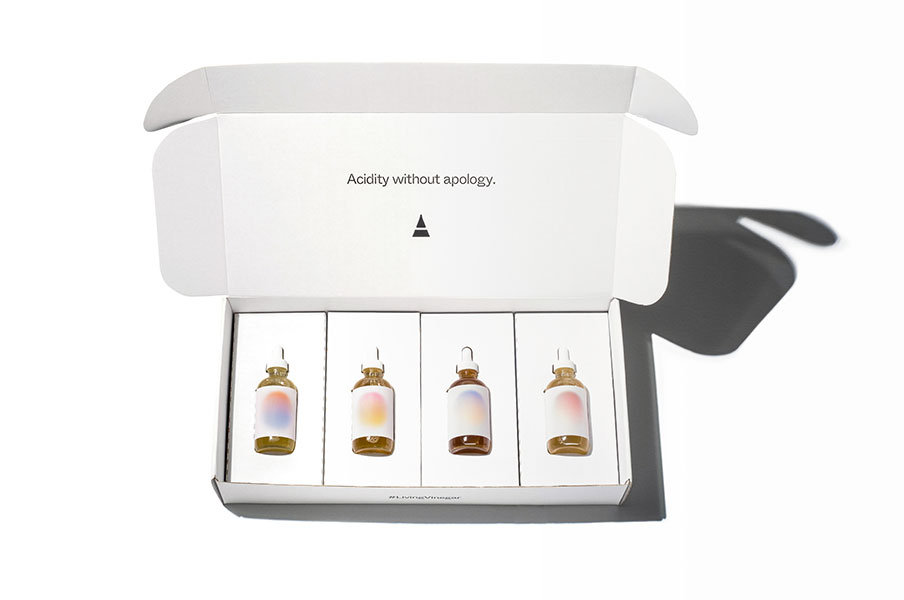 You've got a deal with Whole Foods, but you're also selling limited edition vinegars on your site. What's the strategy there?
C: Everything we sell online is, in some sense of the word, limited edition. [We've done] our initial launch but there are five or six products in the pipeline coming out in the next month. We have an ambitious goal of launching one product a week.
From an engagement point of view, we want to be able to continuously show development, and because e-commerce [lets you] launch something easily and see if there's traction, [we could] maybe pitch to bigger retailers and say "Hey, look at the sales from this, there's obviously something here".
From a production point of view, is that tricky?
C: It's difficult, but it would be a lot more difficult if [we didn't have a food science background]. We have definitely built a business exploiting our education and leveraging our technological advantages.
A: But even then, it's hard. You have to organise production for a small batch of a very particular product that the world will never see again. We haven't decided as we're still young, but the idea at least for now is that when we launch something that's limited edition, there's an element of terroir. I'll give you an example – right now, peaches are in season in Niagara, Ontario. We could do a peach jam, or a peach beverage, but it'd be specific to this year. Maybe we wouldn't do a Niagara one next year. We're borrowing from wine and craft beer, and this idea of something being locked in time. If it's limited edition, it should be special.
How does the packaging play into how you're positioning these vinegars? They look more like beauty serums.
A: There's definitely that element of science-yness to it. As much as we are about food, we're passionate about science and technology. We're fermenters, so we're on the edge of a lot of that microbial science.
C: Specifically with the dropper bottles, we [wanted to] change the behaviour around vinegar. What happens if people have to be very selective with it, instead of pouring it? This dropper bottle makes it seem that much more precious, that much more premium. That's fascinating to us.