Millennial-focused golf brands are giving the $84 billion industry an update
Youngers players couldn't find what they wanted with existing golf brands — so they created their own.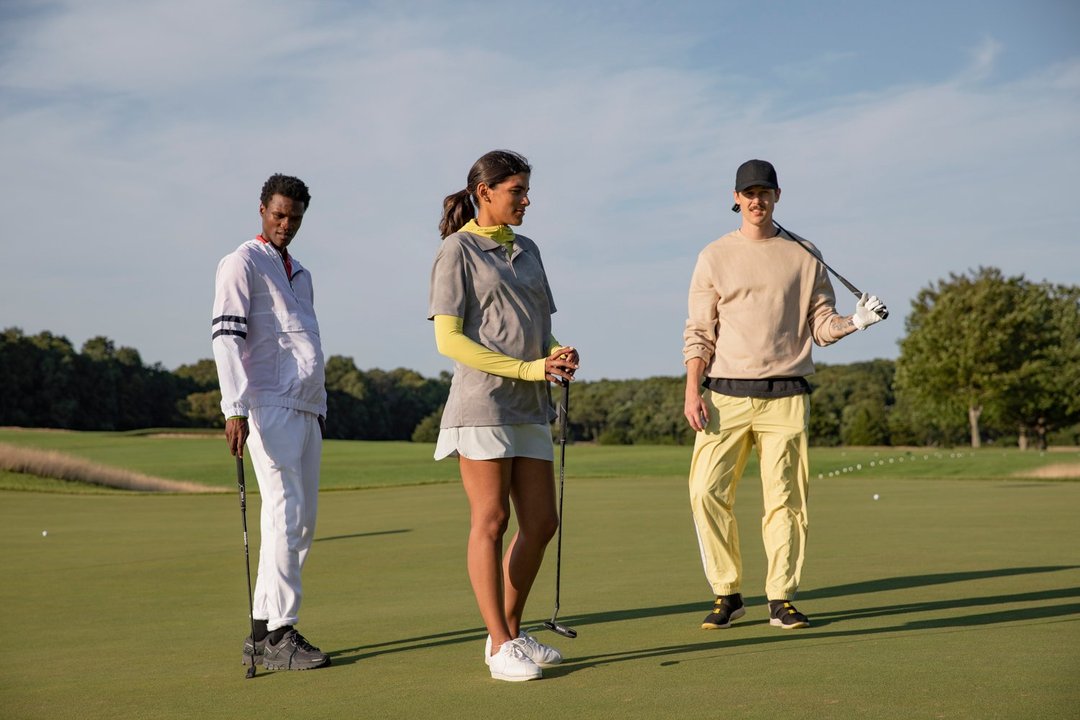 Just a few years ago, millennials were accused of killing golf. Now it looks like they might be the ones to bring the game into the modern era.
While golf participation rates for those age 34 and under fell 13% between 2009 and 2013, today millennials are on track to become the largest group of golf players in America. According to the National Golf Foundation, 36% of U.S. golfers are age 39 and under, with 15 million more millennials saying they are interested in playing the game.
The pandemic, which encouraged people to find ways to spend time together outside, can be thanked for reversing golf's fortunes. According to the National Golf Federation, the sport added 6.2 million new players to its ranks between 2020 and 2021, far outstripping the "Tiger Woods effect" seen in 1999 and 2000, where 4.8 million golfers, inspired by the superstar player, hit the course.
And with the arrival of a new generation comes a new raft of brands, who are trying to shake off golf's stuffy, elitist and exclusionary reputation — while also maintaining its aspirational appeal. Take Malbon Golf, an apparel and golf equipment brand that launched in 2017 and is borrowing from the streetwear playbook by releasing regular collaborations and even launching its own 'digital clubhouse' with an NFT-based membership. Other apparel brands, such as Manors Golf and Untraced are launching apparel collections with the flourishes a golf player needs — pockets for golf balls and tees, of course — but also with a focus on sustainability and simplicity, with the latter working towards a pre-order model.
"The fastest-growing demographics in the sport are the ones that are most underserved," says Peter Marler, the cofounder of two-year-old Robin Golf. "Women, people of color, young people and juniors. These are all groups that have shown a lot of interest in playing but have felt excluded for one reason or another."
The National Golf Federation's most recent year in review reports that 2020 saw record additions of beginner golfers (up 23% year-on-year), youth golfers (up 25%), while participation rates among women and people of color were up 8% and 6%, respectively.
Beginners welcome
The problem for these new players is that the world of golf can seem pretty intimidating to an outsider.
Marler says that when his brother — and Robin cofounder — suggested that he join him for a game, the experience of shopping for clubs left a lot to be desired. He had gone shopping with his sister-in-law, who was directed to a set of purple and pink clubs, while the sales staff started speaking to him in confusing jargon. "The staff came to me and started asking, 'what flex do you want in the shaft?', and speaking in that golf vernacular that so many people are intimidated by," he says.
What he wanted was "the Warby Parker of golf," and so he, his sister-in-law and his brother decided to build it. Robin Golf launched in March 2020 selling "essentials" club sets for men, women and children.
Todd Watts, the founder of Ripit Grips, an Australian brand which sells patterned golf club grips and matching tees, says that many of his less experienced golfing buddies have reported feeling "embarrassed about going to pro shops," feeling as though their beginner status precludes them from such stores.
Golf does, of course, have a history of being exclusionary in more sinister ways than being snooty to beginners. Until the 1960s, the Professional Golfers' Association of America banned non-white players from entering professional competitions (at the time, the organization ran the PGA Tour); many clubs continued to explicitly deny entry to Black players for much longer. Women have also been denied entry to clubs — and private, men-only clubs are still in existence today.
Unsurprisingly then, off-course facilities tend to be more popular among younger golf players. Analysts at Jefferies estimate that Topgolf, a bowling alley style concept that features driving ranges alongside restaurants and bars, is now responsible for between 1-2% of the golf industry's growth, with half of its players being new to the game. "This country club vibe is being broken down," says Watts. "It's becoming a game where you don't have to pay $100 a week to play."
These younger brands, run by millennial golfers, are successfully attracting these new players. Robin Golf says that 85% of its customers are under 40, while 45% are women (who make up an estimated 28% of all golf players). Marler says nine in 10 of Robin's customers are also "net new golfers," meaning it's the first time they have purchased their own kit.
Jojo Regan, the cofounder of Manors Golf, says that under-35s make up the brand's core customer. "Now when people come and join golf, they might find brands like Manors, they might find ways they can play like Top Golf," he says. "The infrastructure is so much better able to serve a new golfer and turn them into a lifetime golfer."
Can a crop of cool brands really change the golf industry?
These brands are doing a good job of selling to this new, emerging customer base — but can they actually move the needle when it comes to making golf a less elitist sport?
While a set of golf clubs from Robin is priced at nowhere near the top end of the range, it will still set a player back by $800 — not exactly an insignificant sum.
The brands argue that by virtue of providing new perspectives on the industry, and hopefully getting people talking about their brands, they will naturally help to shatter any outdated ideas that exist around who is supposed to be on the golf course. Marler also says that Robin is looking at how it can support female players — either through sponsoring professional players, or helping to create training opportunities for women and girls — but its plans are yet to be revealed.
"The biggest problem that golf has always had is it feels unapproachable," says Regan, saying that, in the past, interest in golf is commonly passed down through families and social circles, generally among those who have the means to regularly travel to out-of-town courses. "The barriers to entry are all there, but social media has allowed more people to build up a voice and encourage those who might previously not have thought golf was for them."