Each week, we check in with a different member of Thingtesting's community to ask what brands they've spotted, what they're testing, and take a peek into their recent reviews.
This week's feature is Elizabeth Jaime, she's the owner of Calma Floral, a miami-based floral brand. Formerly, she was the Visuals Editor at Bon Appetit Magazine. Read on to discover the brands she's recently spotted and everything else in her current rotation.
Know a tastemaker who loves to try new things? Submit their name here.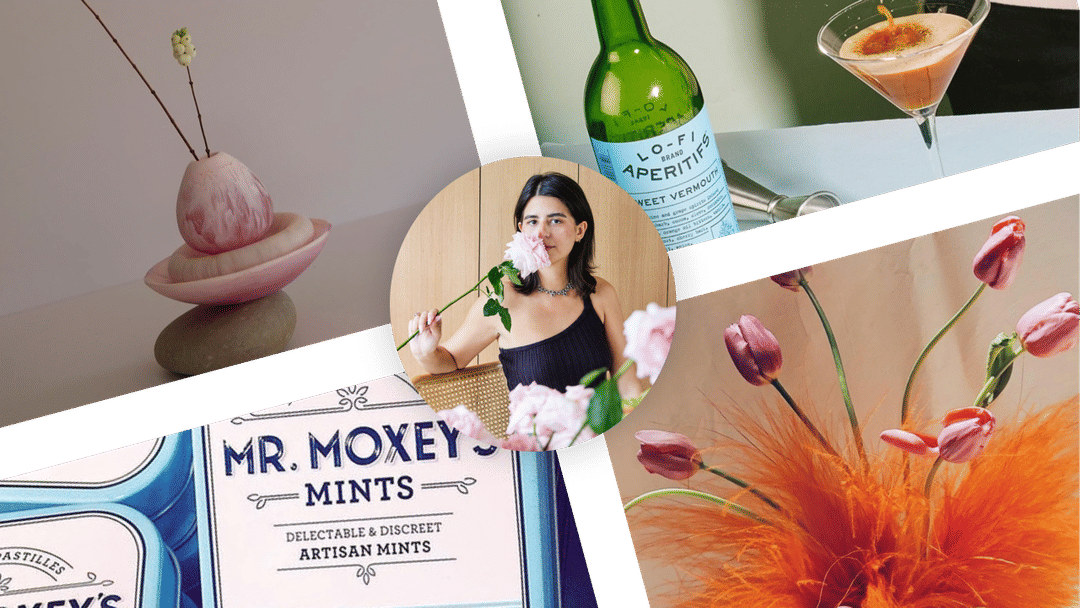 Hi Elizabeth, please introduce yourself.
I'm Elizabeth, owner of Calma, a Miami-based floral brand specializing in modern, tropical(ish) floral designs. At Calma, we do everything from event florals to floral deliveries Before starting Calma, I used to work in the magazine industry as a Visuals Editor, most recently at Bon Appetit.
What are some brands you've recently spotted?
Lo-Fi Aperetifs. I'm a lightweight so my cocktails are usually some variation of a really light spritz. I love mixing Lo-Fi with some club soda and a splash of some sort of juice to create a really drinkable, lightweight cocktail.
Mr. Moxey's. I want to preface this by saying that I've never been a CBD believer and I usually shy away from any new-agey or woo-woo cure-alls. In a desperate, anxiety-fueled effort to try and feel better, I bought these mints on a whim and they actually work. Anytime I'm anxious, I pop one in my mouth and within 20 minutes, feel a lot more calm and relaxed without the head-high of THC. I don't leave my house without them!
Dinosaur Designs. I love Dinosaur Designs for homewares and vases. They make everything out of resin and use their signature swirl pattern for most of their work. I recently visited their New York store and bought way too many things.
What's a brand you've recently tested?
Who has been your favorite client so far and do you have a dream client for the future?
My favorite client is any client who values and trusts what I do at Calma. Some of the best arrangements come from when a client is like "Here's my color palette, go wild!" I do have a few future dream clients though! First would be Bad Bunny because I'm obsessed with him and I like to think he'd love a Calma arrangement. Second, I would love to partner with an artist and create a large living installation in a gallery - TBD what artist, lol!
Describe your perfect Saturday in Miami?
My perfect Saturday would probably consist of sleeping in a little bit and then lazily waking up to fetch a bagel from Sour Seed Bagel in midtown. I'd then pack some snacks and some drinks and take my dog Walter to the Haulover dog beach. In my opinion, Haulover is low-key one of the best beaches in the area. I'd then come home and if I had the energy, cook a meal for some friends and have them over for drinks and dinner. I love hosting people and am trying to do it more in 2023!
What else is in your current rotation?
I made a point this year to take on a hobby that had no ties to work so I started DJing at home just for fun. It's silly, but I love it. For food, I've been eating a lot at Fiorito a lot because it feels like the kind of food my mom cooks for me. I've also started to do a lot of pilates and I've been going to Renegade Pilates and Breath Pilates.
Who are some spotters in your community who you look to for new things?
Jonathan from Primaried for anything furniture or design related. Nick Katz [from Andrew] for anything fashion or streetwear related. Lillian and Steve from Dale Zine for anything that is supporting local artists and the arts community. Chaz Capobianco for anything
Spotted in Elizabeth's living room...
My favorite Jiu Jie knot cushion, my grandparent's marble coffee table, and a vintage Zermat chair from Casa de Barcelona.