Each week, we check in with a different member of Thingtesting's community to ask what brands they've spotted, what they're testing, and take a peek into their recent reviews.
Know a tastemaker who loves to try new things? Submit their name here.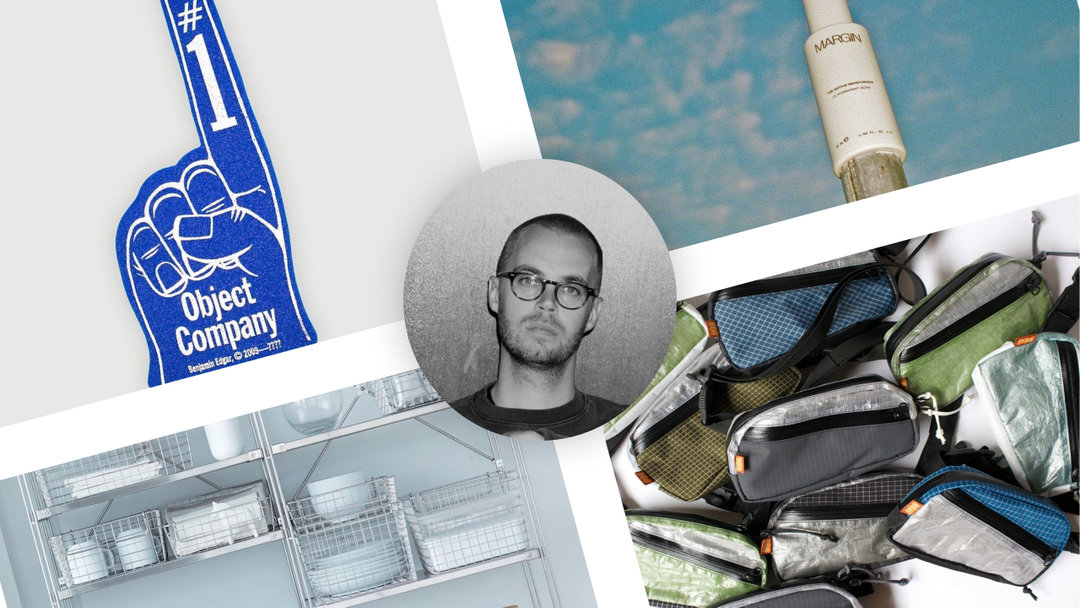 Hi Benjamin, please introduce yourself.
Hey, I'm Ben Edgar. I suppose I'm an incredibly curious and optimistic generalist. Currently splitting my time between Chicago and living in hotels the other half of the year, mostly in New York City. I've founded various companies though I'm currently focused on my catch-all brand titled: Benjamin Edgar, An Object Company. And I'm on the board of Margin Global and Reese Cooper Inc.
What is an underhyped object or an object you haven't yet worked on but would like to?
I'm working on a handful of products for bathing and showering. Super specific epsom salts and scents not for cleansing, but instead for smell/sensory experience.
In your opinion, what makes for a great collaboration?
When the sum is at least 2x greater than the parts.
What are some brands you've recently spotted?
Muji. I mean, everyone knows Muji. But I hadn't stopped in a store in a while and was delighted to find these taped seam baseball caps the other day. I rarely impulse buy anything, but I know have them in a couple colors. Muji is a sort of utopia.
1733 Bags. I most certainly have too many bags that I don't use enough…but as humans we seem to have a bizarre affection towards owning things that carry other things. My friend Phil runs his totally-in-house bag making company here in Chicago and has a truly exceptional eye for detail. A legendary company in the works.
Mark Thomas. I never really thought a lot about wine glasses until I used a Mark Thomas wine glass. Impossibly thin, light, and sculptural without being statement-making or visually obnoxious. They feel like magic in your hand.
What's a brand you recently tested?
How do you define curation?
I don't think you should. It's more something you feel. It should feel similar to how good luck feels.
What else is in your current rotation?
Dining alone. Delta flights. The Marlton Hotel. Yakitori Totto on 55th. Mountain House on St. Marks. Monte Verde Chicago. Citi/Divvy bike rides to dinner. Castelvetrano olives with the pit in. Jonathan Muecke chairs. Going to Salon 94 uptown. Thinking about having more picnics…even solo ones.
Spotted on Benjamin's current workspace...