Average rating from 5 users
100%Recommend to a friend
I absolutely love Wize Teas. They are very light and refreshing. I don't like sparkling drinks very much but that seems to be the only healthier option out there. Wize has the option of sparkling or stilled and it's just nice to have as a treat that is different then water!
Feedback
My only suggestion was going to be to improve the Grapefruit. It's natural flavouring should increase slightly but this feedback isn't necessary because it just got done! The flavour is spot on now!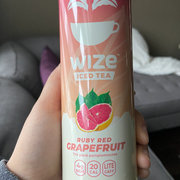 ---
Super refreshing. Honestly never thought that iced tea could be carbonated, and it's seriously a gamechanger. You get the best of all worlds: delicious thirst-quenching taste, nice fizz, light caffeine for a manageable boost, and minimal sugar. Oh ya, no fake sugar crap either! Tastes super clean!
Feedback
maybe a larger can size? I love these and crush multiple a day now.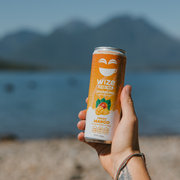 ---
---
It is hard to find a beverage that provides a low caffeine (to avoid jitters) along with low sugar content that doesn't feature fake sweeteners (it seems like everything on the market is either loaded with sugar or with stevia). This drink makes it guilt free, and I can easily have 3 or 4 a day without any side effects. The flavor is balanced enough that it doesn't make you sick of the taste after a can either. The cherry on top is the positive social impact that each can generate, making you want to drink more!
Feedback
More flavor assortment and a printed can feel!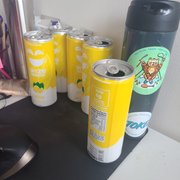 ---
What is Thingtesting?
Thingtesting is an unbiased place to research and review internet-born brands — because honest reviews help us all shop better. Learn more.
---
I love how refreshing these taste especially the mango. I've tasted other brands and nothing compares to these. I love how just the right amount of flavour was added to each one, and the fact that you can choose from sparkling to not sparkling is a fantastic option. I'm not so much of a fan of sparkling drinks but the sparkling ones are a total new meaning to sparkling tea.
---
What started as loose leaf tea, then ice tea, then now the sparkling line, Wize Tea products just get better and better!! It is very refreshing and so low in sugar and caffeine that I don't get the jitters and can have a can in the evening while still being able to get a good sleep. The can teas have always been my go to in the summer!!
Feedback
Cannot think of anything. Wize Tea is already 99.9% in my opinion from the product, to their mission, to how they are helping and supporting our planet and farmers!!
---