universeel mooi
universeel mooi makes made-to-order tops designed to flatter all body types.
www.universeelmooi.com
Average rating from 3 users
I bought the wrap in lilac and absolutely love it. The fabric is super stretchy and comfortable. The ways to twist + tie are endless so I can always get a new look out of this top. I get so many compliments every time I wear it out. Can't recommend it enough!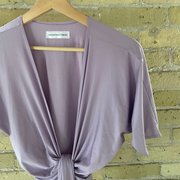 ---
I LOVE my wrap top (I have it in teal). It is so comfortable and versatile. I've dressed it up for nights out or layered with a jean jacket for something more casual. The color is fabulous and the fit is extremely flattering, definitely recommend!!!
---
---
The fabric is SO SOFT! It is thick, stretchy and and holds you in like a GLOVE. LOVE how versatile this top is. You can wear this to work and then tie it another way and be ready for a night out. HELLO! The best Friday top.
---