Tanios
Tanios makes sumac- and za'atar-focused products.
tanios.co
Average rating from 1 user
Honestly, this is probably one of the best zaatar(s) I've ever had. The smell is so intense, when you first taste it, you get the herbaceous freshness of the wild thyme followed by the tartness of the sumac and the toasted sesame seeds as a finale. Delicious! Also, I'm happy to support their mission to highlight wild herbs in Lebanon.
Feedback
No notes really, though it's a new brand - order and shipping went smooth!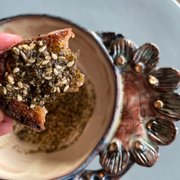 ---