Spice n Nice
Spice n Nice makes natural coffee additive spices to flavor coffee and provide health benefits.
spice-n-nice.com
Average rating from 9 users
100%Recommend to a friend
I am used to drink my coffee with tons of sugar and milk until my doctor recommended me losing weight. No sugar or milk means no coffee, so I stopped it. Until I found Spice-n-Nice flavors. It changed my life, literally. I enjoy my black coffee again, adding and combining 4 different flavors, TONS of flavor and no calories. Couldn't be more happier!
Feedback
Worth every penny! Please try it yourself!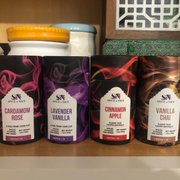 ---
Cardamom and rose is ann amazing flavor. I feel so good after drinking it. Even feels like my digestion is better. I feel healthier drinking this natural product. It's amazing.
Feedback
I feel healthy I feel clean and my digestion system works better with spice and nice flavors. I love the product will always use it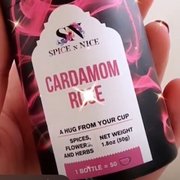 ---
---
Found this at my coffee shop in NOVA and absolutely fell in love with it. I went back to get another vanilla chai when I saw the cinnamon apple, and the two have been on rotation the past few months! I've always liked the flavor of coffee creamers, but not all the additives and have found this to be the perfect replacement. It's so easy to brew into a pot of coffee and have throughout the day; I couldn't recommend enough!
---
What is Thingtesting?
Thingtesting is an unbiased place to research and review internet-born brands — because honest reviews help us all shop better. Learn more.
---
I ordered the Vanilla Chai, Cinnamon Apple, and Cardamom Rose. I have to say this is one of the best purchases I've made for an additive to my daily coffee. Hands down the Vanilla Chai blows it out of the water. I knew I loved vanilla chai but this is the perfect balance between the spice of the chai and the perfect sweetness of vanilla. I use it every single day with my Kpod coffee. The packaging feels nice and light in my hand and is easy to shake out. What ties it all together is the fact that it's zero calories. For all my coffee lovers, I would highly recommend this and it would be good for gifts. You can't go wrong with this tasty treat and overall this takes away the boring sugar. A truly innovative product!
Feedback
Opening up the safety seal was a bit tough, but I understand it helps preserve the flavor.
---
I absolutely love Spice n Nice products! They perfectly compliment my daily coffee routine without any hassle. I especially love the lavender vanilla flavor, it is just divine. Trust me and add Spice n Nice to your coffee!! It's so good
---
The product I never knew I needed but then Instagram persuaded me to try it…and my mornings were never the same! If you want flavored coffee that's what you purchase to make your day. Why bother with artificial flavors and syrups when you can have a wonderful cup of coffee with natural flavors? Even if you use pod coffee like Nespresso you can just sprinkle it on top to enjoy! Just give it about 5 minutes to infuse your coffee, because it didn't go through the brewing process at the same time with your coffee beans.
---
I got the lavender vanilla and rosé cardamom, and I'm in love. Never going back to syrups. I tried it in my chai tea to give it a little extra flavour and mix it up to my usual. Also, great little hostess gift!
---
LOVE this product. The best thing is that I can choose which flavor I want every day. It lasts a long time in the pantry, so I don't have to worry about using up a whole bottle of creamer, and I don't have to keep both creamer and milk in my fridge anymore. I need to have my coffee every morning, but sometimes I buy a bag I don't really like or maybe I let it sit too long. Spice n Nice helps me fix those cups that didn't come out so great. It's pretty much foolproof, b/c you can always sprinkle more in if you didn't use enough. If you're not using a filter, it dissolve really well, unlike some other coffee enhancers. The cardamom rose will obviously have some bits of ingredients, but it's all natural and bonus points for being calorie free! It's pretty enough to leave out on the counter if you have a coffee station at home, and to give as a gift, looks very upscale.
Feedback
The lavender vanilla can clump a little after a while, just like any spice. The bottle is well designed though so just give it a shake to loosen it up.
---
Friends with Spice n Nice
Tried every flavor & really appreciate the creativity. My house uses Atlas Coffee subscription to try new coffees & they're hit or miss. We use Lavender Vanilla daily & just increase the amount for the less than good Atlas coffees.
Feedback
Would recommend grinding the spices with your beans, but we wing it with amounts so would prefer bigger bottles.
---