Average rating from 4 users
100%Recommend to a friend
Great products with a clean and easy to navigate website. They do a really good job of making microdosing less intimidating to the general public. Prices are also pretty reasonable.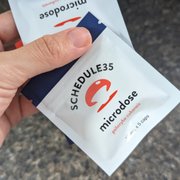 ---
Very innovative product. Very cool to see this medicine made available and smartly packaged. Complaints: I wish the starter pack started lower. 25g would be ideal. The 50mg should not have the other stuff in there like bee pollen. A wider variety of doses makes sense for newbies to figure out what works for them, but adulterating them with other ingredients muddles that process.
---
---
Great product, high quality, and very good education materials
---
What is Thingtesting?
Thingtesting is an unbiased place to research and review internet-born brands — because honest reviews help us all shop better. Learn more.
---
Very accessible for someone looking to try out psychedelics. Product is high quality and safe, and accompanying information is very helpful. Bonus points for great design and packaging.
---