New Prologue
5 • 2 Reviews
New Prologue makes a line of skincare products designed around skin barrier health.
What is Thingtesting?
Thingtesting is an unbiased place to research and review internet-born brands — because honest reviews help us all shop better. Learn more.
Average rating from 2 users
New Prologue Reviews
Experience
Bought the product to tackle a few stubborn hyperpigmentation spots and open to try a cool new product. When I received the product I was instantly impressed by the quality, look and feel of the packaging. The product itself really surprised me, not sure what I was expecting but the texture is incredible. It's silky smooth and slides effortlessly over the skin I found a little goes a long way. One pump dotted over my skin is the prefect amount. After using the product for probably a week and a half, i could already see a noticeable difference in some of the dark marks on my forehead. As of right now it's been maybe 2 weeks and the marks are gone. I'm in shock as to how fast the product worked and all while being very gentle on my skin. I've used many different products in the past to try rid the dark marks and this is the first product that has worked so fast and efficiently.
High quality
Innovative product
Cool look & feel
Worth the money 💸
Fun unboxing 📦
Love the brand's mission 💕
Luxury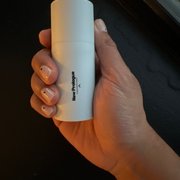 Experience
As someone who has started their own makeup brand I know the painstaking lengths it takes to run an Indie beauty brand, and new prologue blew me away with their quality, aesthetic and customer service. The packaging is heavy in your hand and the components feel luxury. The formula itself glides onto the skin so smoothly. I use this at night before I go to bed and can feel the difference in moisture immediately the next morning. If you have discolouration or issues with dry skin I would highly recommend this product.
Lovely customer support
Good for gifts 🎁
High quality
Cool look & feel
Worth the money 💸
Amazing website