Average rating from 2 users
These treats are very delicious and have a delicate taste! The boxes are really nicely wrapped so you can give as a gift right when you receive them! They have different crunchiness in each flavors so you get to experience a whole different taste for every crystal!!
Feedback
They have limited seasonal boxes which come out almost every month so that's another fun update to see!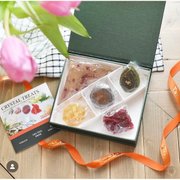 ---
Misaky Tokyo crystal candy treats are delicious, beautifully packaged and made with incredible care. They are elegant, hand crafted, and individually packaged treats that are worth trying!
---