DoseDaily Microdose
4.67 • 3 Reviews
DoseDaily makes microdose capsules using a simple blend of adaptogenic mushrooms and complementary ingredients to promote mental health.
www.dosedaily.io
Average rating from 3 users
DoseDaily Microdose Reviews
I've tried a few different microdosing capsules and found this to be only one where I felt the effects. I think the it has to do with the simplicity in their ingredients and the range of potency from 100mg to 150mg helped me try out what works best with my body.
Feedback
It'd be cool to see more variation of doses!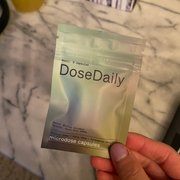 ---
Haven't tried microdosing before but this was a really nice experience. Had a great mellow vibe. I could definitely feel it, so if it's your first time I would try it on a chill day to see how it affects you. I felt a huge improvement in my ability to focus. The packaging and brand are lovely too. Would def recommend to a friend and buy again.
---
---
I'm somewhat experienced with psilocybin so I knew what to expect , but this was my first time consistently taking a carefully measured microdose and the experience was lovely. Simply put, it gave me more focus and helped reduced my anxiety. I did some research on the other ingredients as well and it's quite a nice mix.
Feedback
I'd love to see different dosage options along with the choice of different mushroom strains!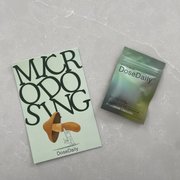 ---