The Inkey List
Experience
I have been using the Inkey List products for a while as i struggle with acnes, and all i can say is these products are amazing. Especially the Hyaluronic Acid and Omega Water Cream! The hyaluronic acid provides intense hydration, while the omega water cream helps to nourish your skin.I'm so glad I gave them a try because my skin is in a much better place now.Highly recommend for anyone looking for something special in their skincare routine,
High quality
Love the brand's mission 💕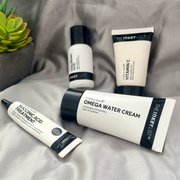 Glow Recipe
Experience
The Glow Recipe soothe and glow Duo is amazing . I absolutely adore it! It has been a game changer for my skin, leaving it looking and feeling very hydrated. The combination of the two serums has helped with my dull skin. I have been using them regularly and my skin looks healthier.This is one skincare product that I have been recommending to my friends
Feedback
I love the new size. Also beautiful packaging!
Good for gifts 🎁
High quality
Worth the money 💸
Love the brand's mission 💕
Luxury