Reviews
Troomy Nootropics
Experience
These are super tasty!! I'm not sure how much it helped my focus, but I definitely didn't feel MORE distracted. I'll keep testing them throughout the work day, but I'm super happy with having a nice little treat to look forward to.
Innovative product
Cool look & feel
ŌURA
Experience
I just got an Oura ring, after being an Apple Watch girlie for 6 years. I was wearing the Apple Watch daily for notifications & fitness tracking, but it needed to charge every night so I wasn't getting any sleep analytics on it. So, I got the oura ring because 1) it looks great with my other rings, and 2) it has a battery life that lasts over 4 days and charges in under an hour, which means I can get a lot more actionable data (like on sleep) from it. My oura ring informed me that my resting heart rate spikes over 10bpm after just a glass or two of wine, so now I'm experimenting with giving up alcohol for a while to see how my overall health and sleeping improves. I wouldn't have made that realization if I wasn't collecting this data daily/nightly to see how my body is impacted by the various things I do and consume. I also started stacking it with other delicate rings to make it a bit more trendy and fit in with my other rings I wear. I've recommended it to so many people now - it's definitely a bit pricey, but totally worth the investment in your health and wellbeing!
Good for gifts 🎁
High quality
Innovative product
Cool look & feel
Worth the money 💸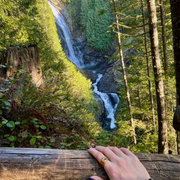 Allbirds
Experience
I just got the Mizzles (since I live in the PNW in the US and it is raining almost every day lately). I've been so shocked at how waterproof they actually are! I spent about 30 minutes walking in absolute downpour and my feet were completely dry when I got inside. They're much more comfortable to walk around in than rubber rain boots so these are becoming a staple in my daily life - warm, comfy, and great protection from the rain. I also gifted a pair to my dad for Christmas and he absolutely loves them. Allbirds for the whole fam!
Good for gifts 🎁
Innovative product
Comfortable
Love the brand's mission 💕
Mejuri
Experience
I received a pair of the gold huggies for Christmas and I wear them every day now. They're solid gold, incredible high quality construction, and so cute/trendy/timeless. I love how Mejuri has made affordable options for real gold jewelry that will last forever without turning colors or making your skin turn green. I have my eyes on a few more items from Mejuri (and I'm lucky enough to live near a store to go check things out in person).
Worth the money 💸
Everyday wear
Fit just right
Luxury
Everlane
Experience
I love Everlane's high quality products and transparent pricing. I've bought tons of items from them over the years: - jeans - LOVE, high quality construction like Levi's - backpack - minimalist, and trendy and make you look like an adult, not a middle school kid out of place in an office building - sweaters - super high quality construction that is durable through multiple washes without pilling or shrinking - boots/purses/general leather goods - super high quality leather goods that feel like they should cost 3-4x more - jackets - I got a jacket from Everlane for my partner for Christmas and its the perfect combo of functional, fashionable, and cozy
Lovely customer support
Good for gifts 🎁
High quality
Worth the money 💸
Love the brand's mission 💕
OLIPOP
Experience
Love love love these drinks! So fun to have a beverage that is alcohol-free and actually does something good for you. I recently discovered them at Costco (yay, we love a fun brand going mainstream) and was super psyched to get a huge pack to have at home with me. They're my mid-afternoon treat, instead of unhealthy food or candies. I bought them as a fun alcohol-free treat for myself during the holidays and now they're a staple in my daily life, which I love!
Innovative product
Cool look & feel
Tasty 😋
Scent Lab
Experience
I admit that I was a bit nervous about trying a candle ordered online - I generally like to smell about 30 options before I pick one in a store. That said, I love the idea of the personalization based on your survey data and was super psyched to see Scent Lab featured in a Thing Drop. I filled in the survey and was presented with a few options, along with a % probability that the proposed options would align with my likes/preferences. I absolutely LOOOOVE the candle that was mailed to me! I was honestly shocked how perfect it ended up being for me. It actually has great cold throw (I think that is what it is called when a candle gives off strong scent even unlit), which I love so I don't need to leave it burning as frequently. I shared this idea with so many friends as a cool gift for people, so hopefully more candle magic to be spread in the future!
Good for gifts 🎁
High quality
Innovative product
Cool look & feel
Custom personalization
Smells amazing
Amazing website
Super fun activity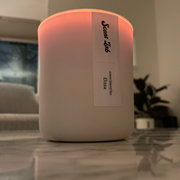 doublesoul
Experience
Love the colors and thickness of the sole part of the socks. They're made with cotton so not ideal for exercising but they're nice for just lounging around the house or running errands.
Feedback
My only feedback is that the white elastic showed through on the colored (green) version of the high rise socks, which made them look not very nice.