Plant-based milk sales have reached new heights. Where can the category grow next?
An abundance of choice in the plant-based milk aisles has led brands to compete on their finer qualities and in coffee shops.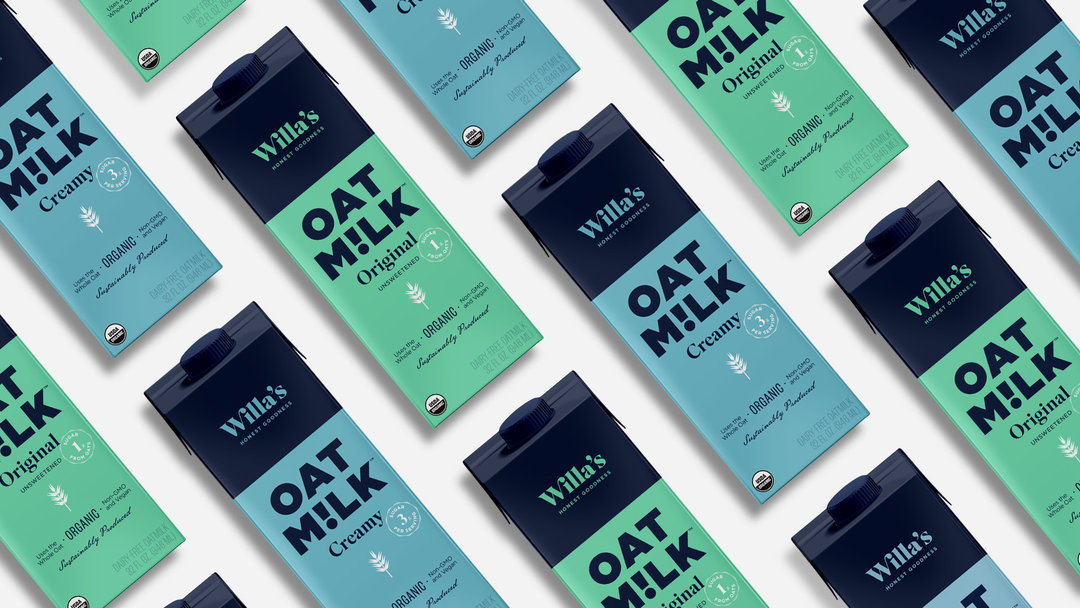 Sales of plant-based milks reached a high of $2.3 billion in the year to June 2022, according to data from SPINS.
An increase in the variety of "milks" available to consumers appears to be what is propelling the category forward with oat and pea milks — two varieties that barely made a dent in sales data a decade ago — having the fastest-growing sales. In the year to June 2022, oat milk sales rose 50.5% to $574 million, while pea milk saw a 27% increase to $60 million.
The popularity of plant-based milks has led brands to attempt to carve out their own subcategories. In 2018, Hope & Sesame launched a range of dairy-free sesame milks, while macadamia milks are being sold by brands such as Milkadamia and Lechia (founded by Kristen Palmer, a former Milkadamia employee). In 2020, pistachio milk brand Táche launched.
These brands are undeniably going after consumers who are conscious of both their health and the environmental impact of their diets — but the longer the spotlight shines on these brands, the more shoppers are interrogating the claims that these brands are making.
Swedish plant-based brand Oatly has been put on blast for the amount of sugar and oil its oat milk contains, while articles questioning the environmental impact of California's almond farming industry have been popping up with increased regularity — not only does this crop require an enormous amount of water, but it also is detrimental to bee populations.
Alt-milks are now going head-to-head to prove their health and sustainability credentials. Táche touts the pistachios it uses as requiring around 75% less water to grow than almonds, while Joi makes plant-milk concentrates which reduce the amount of packaging needed and don't require refrigeration.
"We're now getting to a point where plant-based milk drinkers are taking an analytical look at the nutrition facts — the sugar, the ingredients — and the net output, whether it's positive or negative," says Christina Dorr Drake, the cofounder of zero waste oat milk brand Willa's.
Willa's makes its milks using whole grain oats, rather than removing the hulls and grains as is the usual process. This move, Dorr Drake says, offers both a nutrition and environmental benefit. "We learned that other brands lose 20-30% of the oat material, and in general [it's] the parts of the oat that have the most prebiotic fiber and protein," she says, adding that by using the whole oat, it is possible to produce a milk that is creamier and has less sugar than other brands.
The plant-based milk domination plan
While supermarkets are clearing shelf space for dairy-free milks, coffee shops are seen by brands as another important channel to help raise awareness of their products and to help consumers try before they buy a carton.
Ghost Town Oats, the first Black-owned oat milk brand in the U.S., is currently in the process of rolling out its oat milk to cafes and says it has a wait list of coffee shops wanting to stock the milk. Founded by three coffee industry experts, the milks have been developed specifically with this use case in mind. U.K. brand Minor Figures, meanwhile, sells its oat milks at 2,500 grocery stores but more than 5,000 coffee shops and independent cafes.
Coffee shops can be big customers for alt-milk brands. When Starbucks added Oatly's milk to its menus nationwide last year, the brand couldn't keep up with demand — within one month, some locations were sold out, while Oatly reported in October that demand was outstripping supply to the point where the company was only fulfilling around 70% of orders.
In November this year, Willa's plans to fully launch a barista version of its milk in response to demand from coffee shops. Dorr Drake says that the milk is already used in a few cafes, and that coffee shops in urban environments are currently doing "three to five times the sales of a high-volume grocery store." She expects that by the end of the year, Willa's will generate the majority of its revenue from these two sources, with Amazon orders and direct-to-consumer sales bringing in the remaining revenue.