Mojo Microdose
3.81 • 83 Reviews
Mojo makes gummies containing microdoses of functional mushrooms in order to alleviate the feelings of stress, anxiety and decreased productivity.
mojo.shop
Average rating from 83 users
64%Recommend to a friend
I don't know if these gummies do what they purport to do. It's hard to gauge a change in focus and stress when there are so many factors that make each day unique. The first time I used them I felt anxious. But that could just be me. The next time I took them I felt incredibly calm and centered. Could that have been the gummies? Unknown. The next time, I felt no change. So, it's really not for me to say how you might feel. I can say the gummies have a nice texture and a yummy citrus-y flavor that isn't overly sweet. UPDATE: I received the macro dose and have been using them the past couple of weeks. When I take them I do feel more calm and focused. I am naturally a pretty high strung person and I typically spend a lot of my day reminding myself to calm down and take things step by step. When taking the macro dose I don't have to do that self talk. I just feel able to navigate without my usual anxiousness. Works great for me!
Feedback
Maybe more precise dosing recommendations. If that's even possible.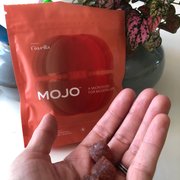 ---
The same review I gave First Person is what I'm giving here. None of the products in my opinion did anything. I do believe in the power of mushrooms, maybe just the way their extracted theirs didn't do it for me. e
---
I enjoyed the taste and experience of eating these but have yet to experience any noticeable effect.
---
---
I think I definitely felt a smidge more productive when I had one of these in the morning. It honestly kinda felt like being on Adderral without being on Adderral.
---
What is Thingtesting?
Thingtesting is an unbiased place to research and review internet-born brands — because honest reviews help us all shop better. Learn more.
---
Seemed to work but hard to tell. Need to use more consistently and regularly.
---
Friends with Mojo Microdose
These gummies have seriously changed the game for me. I could actually feel a increase in my creativity and productivity after I took one of these gummies. The change in subtle, yet effective. I really enjoyed!
---
These are great! Ive been a regular microdoser off and on, and while I can say I definitely feel the effects of a true microdose stronger, these are a much more comfortable starting place and still brought a lot of the same benefits of focus, and a general ease to whatever activity. Only thing I didn't love which others have said they do so might just be my personal preference is the texture / taste, but since these aren't a snack I'm not really concerned as they're not bad, just not as tasty as expected!
---
I noticed a little productivity boost from taking a gummy before starting work in the afternoon when I typically start lagging. Unclear if this was placebo or not but if it works it works! The flavor is also great (no weird aftertaste) and I love the packaging.
---
These gummies were my first foray into functional mushrooms and noticed a difference in productivity. Sometimes it'd be a hit or miss and some days I felt super sluggish but not sure if I can fully put the blame on these guys. Personally, I wouldn't take them everyday as they can be a bit strong, but it's a great addition to my overall wellness stack!
---
The taste is good but I'm not sure they helped my level of attention or focus. I can't tell what was placebo effect and what was efficacy… but it was definitely worth the attempt!
---
Influencer for Mojo Microdose
I loved Mojo Microdose. I tried the extra strength brain boost and I felt a difference, more productive and definitely less brain fogs. I took about 1-2 per day for a week.
---